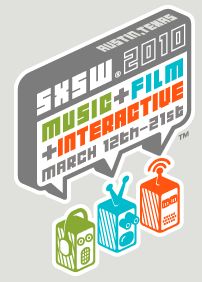 So apparently, just about everyone in my Twitter feed was at South by Southwest (SXSW) this past week, a conference (and seemingly non-stop party) that somehow brings together "music, independent films, and emerging technologies." It's that last that is of greatest interest to me and, as the web developers, bloggers, content producers, and new media entrepreneurs in my feed live-tweeted talks and workshops, party-hopped, and networked, I started to feel that I was totally missing out.
Aside from the occasional press pass-enabled visit to BEA (book nerd heaven), and the mental health professional conferences I attended as a marketing representative when I was still working in academic book publishing, I've never attended a conference. I never wanted to shell out the money: I don't have much of it, I wasn't sure the workshops would be worth it, and my social anxiety makes me totally suck at in-person networking.
But then one of my Twitter followers contacted me last week, saying that she was going to be in town and would love to meet up for drinks. I was nervous but ended up having a great time! (Wine may have been involved.) And, suddenly, I was hungry for more.
So should I be putting next year's SXSW into my calendar? What about the 140 Characters Conference, BlogHer, the BlogWorld New Media Expo, The New Yorker Festival, or TED?
I'd love your input. Which conferences are on your must-attend list, and why? How have they been valuable to you? Or, on the flip side, after you ever put out the big bucks for a conference and ended up feeling it just wasn't worth it?
Related: Networking Events: Conquer Your Fears By Thinking Like a Journalist, How To Market Yourself: Getting Out More, How To Keep From Becoming a Recluse (and Why)