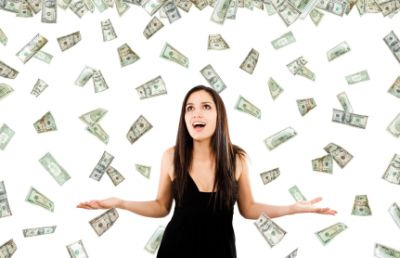 Things have been awesomer than usual lately, and that's a relief.
Because 2009 was a rough one.
This time last year, it seemed that — no matter how desperately I looked — it was impossible to find paying work.
But then, at the end of 2009, shortly after I had started a new part-time job at YourTango, Ian Kerner contacted me about co-writing an ebook with him for his new Good In Bed web project. Several months later, I was contacted by someone at AOL's Patch about copy editing. The other month, an editor at The Frisky asked me if I'd be interested in writing a regular sex column for them. And then, the other week, someone at Psych Central e-mailed me, asking if I would be interested in writing for their site, as one of their editors had seen my LoveMom piece on depression, and had been impressed.
I'm not trying to gloat (though sometimes I like to point at my husband and say neener-neener). I'm just sayin'… it's totally possible to bring in new projects without lifting a finger. How?
Okay. This is a two-part process, so listen carefully. Basically? Work your ass off while simultaneously developing (and maintaining) relationships with others in your field.
What? You didn't think it would be easy, did you?
Work Your Ass Off:
1. Continue brainstorming new ideas, researching markets, writing up query letters, sending out pitches… and then? Do it all over again. Be relentless.
2. Don't allow yourself to get discouraged when business is slow. It just means that you have to hustle more. The more you hustle, the more you'll be rewarded, even if the rewards are not immediate. And those pitches that were rejected, or those proposals that were turned down? It's nothing personal. Rather, it's bad timing. Or a not-quite-right fit. Or a too-small budget. Or any number of other things. Be relentless, and the work will start picking up again. Allow yourself to wallow, and the few opportunities that are actually out there will pass you by.
3. When things are slow, you can also stay afloat by getting creative. A year ago, I had to face the fact that blogging, pitching, and copy editing weren't paying the bills. I asked myself how I could expand my business, using my skills and experience to offer up something completely new. As a result, I ended up on the other side of the publishing fence, editing other people's work at YourTango. I also entered a career coaching certification program, and eventually launched a career coaching practice focused on the publishing industry. Now, if any one aspect of my career slows down, there are other things I can turn to. It opens me up to more opportunities, and the sense of security I receive from that is priceless.
If You Don't Schmooze, You Lose:
As a result of all the work I continued to do after the New York Sun folded — in addition to all of the other ways in which I tried to connect with new people, and stay connected with former colleagues — my professional network has expanded exponentially in the past year, and things have slowly but steadily picked up. That gig at YourTango? It didn't hurt that I had worked with one editor in the past, at another publication, and it also didn't hurt that I had written two pieces for the site the year before (one of which had performed quite well, landing me appearances on both a radio show, and on CNN). How did Ian Kerner find me? I had interviewed him for an article in Time Out New York several months earlier, so I was on his mind as he began planning his latest web venture. Patch? They found me through LinkedIn, oddly enough. And my fairly new sex column? I was actually in contact with an editor at The Frisky because of a content partnership the site had with YourTango, and when this editor's colleagues decided they should launch a sex column, she thought of me.
Every day, new and amazing opportunities pop up because of the people I've worked with in the past, or met both in person or online.
How can you build similar relationships?
1. Stay connected with former colleagues, editors, clients, sources, etc. Because, as the saying goes, one person may know someone who knows someone else who knows someone who'd like to hire you.
2. Develop new relationships by taking classes, attending industry events, and participating heavily in the social media sphere. And remember: the key in developing these new relationships is good karma. Don't be transparently looking out for yourself, asking others what they can do for you. Rather, ask yourself what you can do for them. Connect them with people they might like to work with. Ask them to collaborate on a project. Share their amazing content or brilliant products. Interact and get to know them.
3. Be authentic. I hate being sales-y. I'd much rather just be… me. Luckily, it seems to work, both in my writing and in my business relationships. So instead of practicing your elevator speech, just engage. The connections you make this way will be much stronger, and much more real. And also much more mutually beneficial.
And then? Don't worry! If you follow all of these tips, you'll eventually pick up momentum. And at that point, the work will just start pouring in, all without you having to lift a finger. 😉
Related: Nothing To Do With Luck, The Road To Freelance Success Is Paved With Good Karma