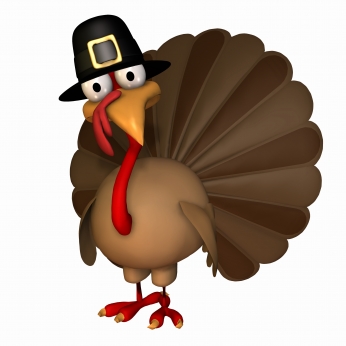 I know that posts like this one –during this week — are trite, but I feel as if I have a lot to be thankful for. The past year was a rough one, beginning when the New York Sun folded. It was my main source of income and, in the months following, my income shrank more and more, leaving me feeling as if I was spinning my wheels, despite the new markets I was breaking into.
In the past couple months, however, it's as if the stars have suddenly aligned for both me and my husband. Now, the possibilities of both a fulfilling career and the ability to start a family and buy a house in the next year don't seem so ludicrous. So am I feeling a bit overcome with thanks? Yes. So indulge me.
I am incredibly thankful for:
1. My new job:Â At the end of October, I resigned from my lead blogger position at Nerve, feeling that it was time to move on. Despite the fact that Nerve was my only regular source of income. And despite the fact that I hadn't yet found a replacement. It's a miracle my husband doesn't have an ulcer. (Maybe he does and we just don't know about it.) Then, a few weeks later, I landed an awesome Part-Time Assistant Editor job at YourTango. I was conflicted about taking the gig, because the salary was low, and it required a three-days-a-week commute into the city. But in the end, I went for it. Because it was regular income. And because I really need to get out of the house more, and interact with people. And because the job sounded both fun and challenging. This was my first week at the office, and I'm thrilled to be there. Plus, it still leaves me time to work on other freelance projects and make my way through my career coaching certification program! (My husband also recently started a new job after seven years at the same company. It's an increase in salary, and allows him to finally concentrate on the work he's most passionate about. We are both especially blessed to have found new and fulfilling jobs at a time when many people are struggling with un- and underemployment.)
2. My career coaching certification program: About a year and a half ago, I brainstormed ways of diversifying, and moving forward in my career, and came up with career coaching. It appealed to me because it would allow me to bring in additional, regular income on a flexible schedule, and because it was aligned with what I had determined to be my life purpose: connecting with and helping others, whether through my writing or other means. I researched both career coaching and career counseling programs and conducted informational interviews with both coaches and counselors. I was ready to jump, when the Sun folded, and it quickly became obvious that I wouldn't be able to afford tuition. I became stalled, and progressively more frustrated and depressed. Then my parents threw me a lifeline. I'm now most of the way through my career coaching textbook, have started live teleclasses, and am getting progressively more excited at the prospect of eventually launching my private practice, centered on the publishing industry.
3. Clips in a number of new markets: Though I've been struggling financially in the past year, I've been slowly worming my way into several new markets. I became a sex blogger for AOL's Lemondrop. I got clips on both The Frisky and YourTango (the latter of which led to both radio and TV appearances). I finally broke into Time Out New York. And I'm working on pieces for both Inside Jersey and the New York Post. Thank you universe!
4. New projects: And not even new projects that I sought out, but new projects that came to me! I just finished copy editing an ESL textbook for a major academic publisher, thanks for a friend/former colleague. And, most recently, I was contacted by someone I'd interviewed in the past about collaborating with him on a new, exciting web/publishing project. Thanks again universe!
5. My time at Nerve: I started reading Nerve back in college, when I was an editorial intern in the new media department of the Boston Phoenix, creating adult content for their EroticBlvd site. They soon became one of my wish-list employers. I finally landed an internship with them after leaving my full-time job in book publishing, which led to a blogging gig, which then led to a lead blogging gig. Not only that, but I finally got a personal essay on their site, made some fabulous contacts/friends, and used my experience there to open some new doors. I may have left you, but I still heart you Nerve, and hope to write for you again in the future!
6. My Cookie Monster pants: They are soft and fuzzy and oh-so-warm. Plus, they have Cookie Monster on them. I often wear them far past an acceptable PJ-wearing hour when working from home.
7. Amazon.com: I am known as a bit of a booktard. I refuse to apologize for this. There's pretty much nothing better than curling up with a good book, finally emerging hours later with that woozy, dreamlike feeling. I also have an alarming number of self-help and how-to books, which I've used to self-educate myself on writing, freelancing, finance, and other forms of survival. Amazon helps me to feed my habit. Plus, last year, they created their awesome Universal Wish List bookmarklet, and now it's so much easier to keep track of all the things I want to spend my (nonexistent) money on!
8. Twitter: I've met some pretty fabulous people through this blog, but nothing else has surpassed Twitter in terms of building my professional network, promoting my content, and sharing great articles and ideas. I now refresh my Twitter feed with an OCD-like frequency, but I tell myself it counts as work. It totally does, right? Right???
9. My three cats, Gizmo, Mercutio (Kooshie), and Lusa: I adopted Gizmo and Kooshie about nine years ago, when I was struggling with ending an abusive relationship. Nine years later, they continue to bring me comfort and joy, snuggling up next to me when I'm watching TV, laying on my chest (and making it difficult to breathe) when I'm trying to sleep at night, sprawling out on my desk when I'm trying to work, and generally being adorable and perfect. Last year, we added Lusa to the family. Let's just say that Gizmo and Kooshie tolerate her. Whatever. Michael and I love her to bits. The three of them make working from home an extra-special treat.
10. Mr. Coffee: I'm going to blame Nerve for this. Because, before interning there, I didn't really drink coffee, except as a means of wasting time when I worked in an office full-time. But Nerve bought their coffee from Gourmet Garage in SoHo, and I was especially taken with their Bavarian chocolate blend. So — though I had never seen the need to own a coffee pot before — I ended up buying the same exact pot that Nerve had in their office. Now, I can't make it through the morning without brewing a pot. It's just so…warm, cozy, and comforting!
11. My new laptop: Thank you, Michael, for gifting me with a laptop this year. I know you meant for me to use it as a means to get out of the house, but I actually use it as a means to never get out of bed.
12. My GPS: Another generous gift from my husband, who is the master of awesome gifts. I can't function without this thing.
13. The generosity and support of my fellow freelancers: It can be difficult to get past the mindset that other freelancers are competition, dammit. But it will be beneficial once you do. Your relationships with other writers and freelancers should be collaborative, supportive, fulfilling…I am so grateful for the advice I've received from my fellow freelancers. The leads and job ads and contacts. The support and willingness to listen to my angst-filled rants. Special thanks go to the readers of this blog, my Twitter followers, and the members of FLX, UPOD, and WSBR.
14. Good friends who keep me sane: I know, I know. I work too much. I never call. I'm barely ever available. But I love you. I swear. Most especially because you keep me sane, often by indulging — and then soundly dismissing — my neuroses and other forms of insanity.
15. My ultra-supportive husband: People have told us that we belong together. That we balance each other out. And in our very first couples therapy session, Michael told our shrink that "we just get each other." Michael has been especially supportive when it comes to my career, playing the overworked breadwinner and allowing me to leave my full-time office job, go-full-time freelance, and continue to follow my ever-elusive dreams. Even during the extra-tough times.
16. My super-indulgent parents: Giving me a much-needed loan so that I could sign up for a career coaching certification program is only one example of what selfless and generous parents they are. They've been supporting my dreams and goals for years — and bragging to others about my accomplishments — despite not always understanding me. I suspect they're sometimes baffled by how I've turned out, but they love me anyway! 🙂
Again, thank you everyone.
Related: Thank God for Freelancedom!