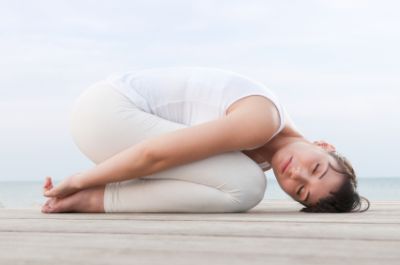 Class started off slow. Instead of sitting cross-legged on our mats, hands resting palms-up on our knees, we rolled up blankets and placed them — lengthwise — beneath our backs. We stretched out, our heads propped up on blocks, our arms flung out to our sides, our eyes closed. We concentrated on the rise and fall of our stomachs. Our chests.
After coming under the gentle spell of our own breath, we rocked forward onto all fours, and then leaned back into child's pose. Then we slid forward onto our stomachs, where we were told to stretch our arms out above us and rest our foreheads on the floor.
That's when I felt the tears burning behind my eyelids. They were so sudden, they took me by surprise. I pressed my forehead and nose into my mat, hard. I rocked my head from side to side, allowing my hair to fall around my face.
So does it still count as a quarter-life crisis when you're 32? Because I have been in a down and dirty funk, y'all. While crying in public was new for me, that mix of sad and angry and disconnected has been sitting deep in my gut for months now.
Last week, a post I wrote for LearnVest — on the guilt I feel over the income disparity between me and my husband — went live. The post quickly accumulated over 100 comments, many of them referring to me as selfish and spoiled, and was syndicated on Business Insider, FOX, and AOL/Huffington Post.
In the piece, I wrote about no longer wanting it all (and by "wanting it all," I'm referring to the six-figure salary I often feel I'm supposed to be vying for). I mentioned wanting to give up the constant hustle… wanting to concentrate on my book and my yoga… wanting to become a mother (something else I continue to fail at). I worried that those things were not as valuable, because they did not carry the same price tag as my husband's career.
At around the same time, I contacted Peter Shallard about his Clarity Couch Challenge. I answered questions about where and how I felt stuck. I talked about the fact that I had lost passion and excitement for my work, and that I was no longer sure what I was working toward.
What would you do if you knew you couldn't fail? he asked me. And how would you monetize it?
They're common questions in the coaching world, and we should be asking ourselves those questions over and over again, constantly reevaluating our career path, changing course in accordance with our responses. But that second part – how would you monetize it? — is a toughie. It's why, all too often, we approach things from the opposite end. We pinpoint the work that pays the bills, and then we throw everything we have at it, to the exclusion of all else. What would we do if we couldn't fail!? Hell. Who has time for that!?
I don't know if I've lost energy for my career because I'm depressed, or if I'm depressed because I've lost energy for my career. It's quite possibly a little bit of both. But right now, I'm not interested in monetizing a goddamn thing. And that scares me.
How does your depression affect your work? And how does your work affect your depression?