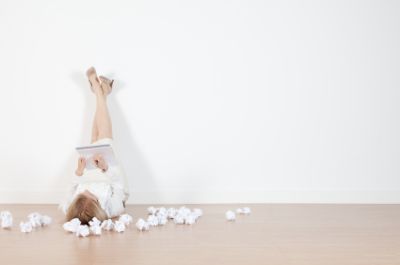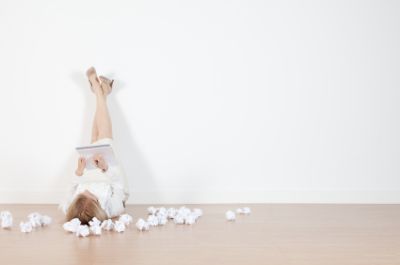 We're just a few days in to NaNoWriMo, and the tweets and motivational blog posts are already flying fast and furious. Not that I'm participating, mind you. I'm not a novelist, and all of my attempts at "fiction" back in college were thinly-veiled, totally emo personal essays (as were everyone else's). But I can't help feeling envious that fiction writers have a month like this, during which they can go all in on that large project they've been daydreaming about for eons, a built-in support network (and hard-core accountability) just an email or dedicated forum away.
Of course, I get my motivation and accountability elsewhere. My writing partner, Lyz Lenz, sends me threatening emails every week.
But what about the rest of you? Where can you go to ensure that your writing goals are met, thanks to a mix of motivation, camaraderie, and abject fear?
1. For those of you who have trouble updating your blog on a regular basis (shut up; I was doing very, very important things… okay, I was tweeting and surfing Etsy), there's NaBloPoMo, or National Blog Posting Month (also in November). You can check out the BlogHer site for writing prompts and badges and then dive on in, secure in the knowledge that, at least for one month, you were on top of things.
2. If your November is just too damn busy (with Christmas shopping), there's always Michelle Rafter's WordCount Blogathon, in May. Check out Michelle's Blogathon page for all the ways in which participating can help you build your biz.
3. And of course, those are just two of the more well-known ones. You can search for blog carnivals within your specific niche at this handy-dandy online directory.
4. If you've got your blogging covered, however, and would rather concentrate on content you can create for actual money, I highly recommend Freelance Success's twice-a-year Query Challenge. For the brief period of time in which I was a member of this professional writer's group, I found the Challenge to be its most beneficial resource. Participants were split into teams and pitted against each other, earning points through queries and LOIs, and through the assignments that resulted from them. Team members had to report their points once a week, and team rankings were sent out in the weekly e-newsletter. There's nothing like some healthy competition (and the fear of letting your teammates down) to make you sweat.
5. Then there are those sites and applications that target your writing productivity, and that can be used year-round. 750 Words is one such resource. It's a site on which users aim to write at least 750 words a day and, for their troubles, receive points for their progress, and stats about what they've written (such as their most productive times of day, their quickest entries, their most common topics, and their most frequently used words).
6. Finally, if extreme terror is the most effective form of motivation for you, there's always Write or Die. I'm afraid to use it, but rumor has it that, if you don't reach your writing goals for the day, this application send you a threatening email, announces your failure to the entire Twitterverse, erases your hard drive, and makes your coffee pot malfunction.
Just kidding.
Write or Die tracks your writing and, if you pause for too long, you either a) receive a gentle reminder pop-up, telling you to stop being such a goddamn slacker (gentle mode), b) are subjected to an "unpleasant sound" that only ceases if you continue writing (normal mode), or c) are forced to watch your writing unwrite itself (kamikaze mode). Note: I am afraid to use this app.
7. Of course, you could always use mini goals, rewards, self-imposed deadlines, and good, old-fashioned self-discipline, but where's the fun in that?
Any of you guys have an app or non-technical trick that keeps you at your keyboard?
Related: Didn't Get It Done? That's Your Own Damn Fault, Resource Roundup: 4 Time Management Applications, Are Professional Organizations Worth the Cost?, Motivational Trick: Fear (of Letting Others Down), Finding Someone to Drag You to the Finish Line