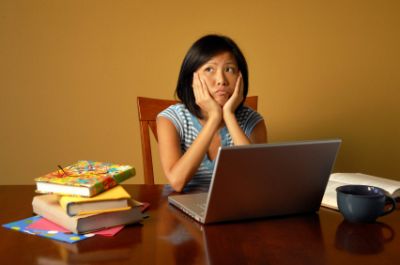 Things that distract me:
– my cats
– an opened bag of Candy Cane Kisses
– music that is particularly peppy
– the knowledge that there is an unwatched episode of The Sing-Off on my DVR
– the dust I just noticed on the far edge of my desk
– a sink full of dishes
– Etsy
– my sudden obsession with yoga bolsters, brightly colored jeans, or illusion necklaces
– Twitter
– etc.
This past weekend — at a time when I was supposed to be working on the first chapter of my book so that I could get it to my writing partner by Monday — we lost power (along with hundreds of thousands of others on the east coast, thanks to a freak October blizzard). Okay, fine, I thought to myself. I'll give myself a pass. My laptop will die in under two hours anyway.
Then, on Sunday night, the power came back on.
By Monday morning, however, Internet had still not been restored. "Ooh!" I said to my husband. "I'll take this opportunity to write that chapter without any distractions!"
I then proceeded to spend the next few hours watching Project Runway, playing Spider Solitaire, and checking email on my phone. [Read more…]