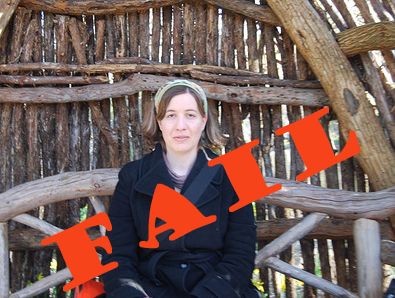 2008 started out strong. I was finishing up an internship at Material Media (of Nerve and Babble fame), and gearing up to take on more hours at the New York Sun. And then I was chosen to be a blogger for Modern Materialist.
Soon after that, I realized that — only six months after leaving my full-time job in academic book publishing — I had matched my previous salary. I reveled in my blogging gig, was content with my regular copy editing gig at the Sun, and was also doing freelance work for several book publishers. I even got the occasional writing clip. I began planning for more.
I continued my self-education, and began blogging about blogging for Smarter Than Your Average Blog (a gig I eventually left behind). I also began considering a path toward career coaching, and career-related writing. I did extensive research and conducted informational interviews. I was all set to enter a certification program when everything went to hell.
The Sun folded, and the rest of the industry (not to mention the economy at large) followed suit. I no longer had the income necessary to sign up for a coaching certification program. I floundered trying to figure out whether or not I was cut out for freelancing, and what I even had to offer. I struggled unsuccessfully to find a part-time job in the publishing field.
I've since gotten a number of new clips (see here, here, here, and here), but I have yet to take advantage of the momentum, and suffer from mood swings and lack of motivation. Can I turn things around in 2009? Perhaps. If I'm willing to learn from my mistakes.
After the jump, 10 things I did wrong in 2008:
I did everything right when preparing for my departure from the corporate world. I did my research. I secured a steady gig that would allow me the time to grow as a freelancer. I discussed the risks and ramifications with my husband. And then I jumped.
1. The only thing I neglected to do was to save money in the event that I failed.
As a result, I placed myself under constant stress,  always worrying about money, and living from paycheck to paycheck. To make matters worse, my already existing credit card debt made it impossible to keep up with my bills, or to save any money. It wasn't until the summer of 2008 that I regained control of my finances, and I was on the path to be credit card debt-free within a year. Then I lost the Sun.
For the love of god, people. Make sure you're financially prepared before making a similar leap. It will save you from developing an ulcer, and turn a big risk into a much smaller one.
2. Getting that regular copy editing gig was a godsend, but it was short-sighted of me to place all of my eggs in one basket. Aside from the odd project sent my way by personal contacts, all of my income stemmed from two ongoing projects. It didn't occur to me to consider the possibility that either of them might one day disappear. As a result, I never actively pursued other work. I was lucky for awhile, but the luck eventually ran out.
3. What I should have been doing was aggressively marketing myself, but I didn't know how. Instead, I was passive, allowing my LinkedIn profile to languish, not taking advantage of the powers of social bookmarking sites, and certainly not cold contacting possible clients…all things I should have been doing constantly, no matter how well my work was going.
4. Part of the reason I had so much trouble with this was because I had lost sight of my end goal. Career goals are constantly evolving and, in reevaluating mine, I felt suddenly lost. What type of work did I want to be doing? Who were my dream clients? Was full-time freelancedom even the right set-up for me?
5. It eventually became clear to me that a career in vocational coaching would fit my interests perfectly, while still allowing me the flexibility to write and eventually become an at-home mom. It would even give me the legitimacy I desired to eventually publish the types of books I wanted to be writing! It was a perfect plan, but when it was (hopefully only temporarily) derailed, I had no contingency plan. Hence, the past four months of confused floundering.
6. I should have used this time to busy myself with other things that would make my present platform stronger. I wanted to work toward monetizing Freelancedom. I wanted to start pitching magazines again. I wanted to experiment with other forms of passive income, such as selling photos to stock photography sites. The number of small, stopgap ideas overwhelmed me, and I was unable to organize my time well enough to take any action.
7. The small victories I did make were isolated, and I didn't continue the momentum by repitching to publications that had recently published my pieces, or keeping up with Freelancedom when audience numbers began to grow.
8. I isolated myself, never leaving my condo to exercise or socialize. I was a bit of a recluse, and I felt lonely and unhealthy.
9. I was unable to maintain self-discipline in the face of this complete lack of motivation. I took longer breaks between tasks. I completely stopped sending out pitches. I began to consider my freelance experiment a failure, and wondered if it was even worth making the effort anymore.
10. I let myself succumb to depression. I allowed myself to forget my accomplishments.
In a way, this was the biggest mistake of all. Looking back over the past year, I'm amazed to see the ground I covered…the things I accomplished. It's proof that, when I put my mind to something, I can make it happen.
When you're facing a period of confusion…a loss of faith in yourself…please do catalog the things you've already accomplished…how far you've managed to come. It's a mood booster, and a testament to possibility.
I promise to try harder in 2009, and to learn from my mistakes. Hopefully, I will remain worthy of my readers.