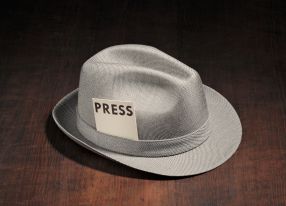 Several months ago,  I asked for your burning, publishing-related questions. In response, Alisa Bowman — a fellow blogger — mentioned that she was constantly being asked how to prove credibility and experience when just starting out:
"You need experience and contacts in order to get assignments and jobs, but how do you do that when you are right out of school?"
It's a good question, especially considering that — when at a loss for how to move forward — many college grads consider just staying in school and pursuing a graduate degree.
I'm of the mind, however, that getting your Masters degree isn't a necessity. Rather, I think it's better to dive right in, instead of spending countless hours (and dollars) in a classroom environment.
So how do you prove your credibility when you don't have a lick of experience?
1. Engage in some continuing education. For cheap. While I never for a second considered going to grad school, I also never stopped learning. And when it comes to continuing education, knowledge isn't the only thing to gain. You can take a non-credit class (or even an online class) for much cheaper than a for-credit class, and not only hone your skills, but also build your professional network, and perhaps even gain a mentor. I'm also a huge proponent of post-college internships, despite the bad press they've been receiving lately. Much more than a bullet point on your resume, you can gain valuable contacts at an internship, valuable experience and — most important of all — clips! Or contact editors and/or industry heavy hitters about the possibility of meeting them for an informational interview. If you make a good impression in the course of milking them for their words of wisdom, they may think of you when the next assignment or job opening pops up.
2. Build up your marketing platform. While you may not have any published clips… yet… you can still establish yourself as an expert in your field by starting up a professional blog, or answering questions on sites like Brazen Careerist and LinkedIn (or both; the more you market yourself, the better!). When you send out query letters, you can then include a link to your blog. This will serve to showcase your writing ability, showcase your knowledge, showcase your web-savvy, and show editors that you have a built-in audience.
3. Start small. When first starting out, I wanted very badly to break into online magazines like Nerve, and print mags like Time Out New York. But upon sending out those first query letters, I received nothing but silence. (sad face) Eventually, however, with clips from New York Press, Playgirl, and SexHerald in hand, and with volunteer experience at $pread, I got my foot in the door at Nerve. From there, I finally got clips from Time Out New York. And so on and so forth, in a snowball effect. If you're having trouble breaking into the bigger mags, start small, with local publications, or with websites that are working with smaller budgets. They're more likely to take a chance on untested talent. And once you have those first clips in hand, it will be that much easier to attract the attention of the larger publications.
4. Network like hell. Most of the gigs I have now are thanks to knowing someone who knows someone who needs someone like me. So attend industry events. Connect with both editors and publishing peers on Twitter. Always look to meet and connect with new people. Hiring managers and assigning editors receive an overwhelming amount of applications and pitches from people just like you. How can you stand out? By giving them a face to place alongside your name. It's so much better to begin a letter with "So great meeting you the other night!" than "Dear EDITOR I HAVE NO CONNECTION TO WHATSOEVER." Obviously.
5. Prove your awesomeness with a great idea. On to the query letter. Clips aren't everything. If you can surprise an editor with a really creative and unique idea, they'll be thrilled. That's one less thing they'll have to handle on their end.
6. Prove your awesomeness with your fabulous writing skills. Why do editors look at clips? They want proof that you can deliver. So in a sense, even your query letter is a sort of clip. It can be used to showcase your writing style, your personality, and your ability to conform to the voice of the publication you're pitching. Which is why I make such a big deal about query letters here at Freelancedom, and why I think you should always work extra-hard on them. As an assistant editor at YourTango, I'm constantly receiving pitches for the LoveMom blog I manage, and e-mails from hopeful intern applicants. If it's obvious that no effort was made with the cover letter — or if the voice of the letter writer doesn't mesh with the voice of our site — I immediately move on to the next one, and don't ever look back.
7. Prove you're the best person for the job, due to your personal experience. After you've grabbed an editor's attention, they'll want to know why they should let you have the assignment, rather than handling it in-house. In a situation like this, personal experience can count more than clips. If you're pitching a story on wine, for example, it can help to tell an editor that you've worked in a wine shop or tasting room, or as a sommelier. If you're pitching a piece on careers or job hunting, being certified as a career coach certainly couldn't hurt. 😉
8. Prove you're the best person for the job, due to your connections. For reported pieces, editors will want to know that you have the ability to get choice quotes from the very best sources. Be sure to mention the sources you plan to use when drawing up your query letter.
9. Don't forget about your transferable skills. This one is an extension of number seven, and I'm reiterating it for those who are applying to jobs, rather than pitching magazines. If you're switching from book publishing to newspapers, or even changing industries entirely, focus on your transferable skills when updating your resume, rather than your job responsibilities. And don't rely solely on prior job experience. Remember the skills you've picked up from extracurricular activities, volunteer gigs, and the continuing education you've pursued.
10. Finally, don't allow yourself to get discouraged. Some people give up too soon, but there can be a number of reasons for a rejection, or for no response at all. Read this post, and always remember its lessons. Then pick yourself up, dust yourself off, and try again.
Did you find this post helpful? (Oh god, I hope so; it took forever to write!) We'll be discussing this type of stuff — and more — in my forthcoming 5 Weeks To Freelance Awesome e-course. The first day of school is Monday, September 13, so you'd better sign up soon! I'll be waiting with bells on.