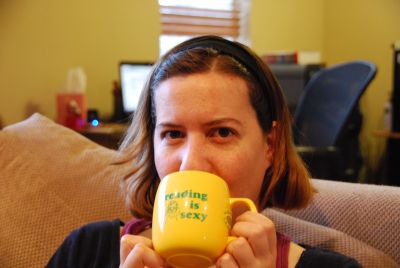 I'm already several hours into my workday, and I'm still unshowered, wearing the pajama top that sometimes slips down so low I unintentionally flash my husband. My hair hangs in oily, unattractive clumps, and I sorta smell. I mean, I'd like to shower, but I'm pretty sure that as soon as I disrobe, that package I'm expecting will arrive. Â This is what I get for not rolling out of bed until after 8 a.m., after my husband has already walked out the door to catch a bus into work.
So I'm sitting here at my computer, taking care of small tasks while my brain still lumbers into wakefulness. I'm tweeting and making my way through my inbox and feeling a bit resentful of all the conference calls I've had to be on over the past few weeks.
Because god forbid anyone tries to communicate with me via anything but email.
I have another conference call in under an hour, and I wonder what they'd think if they saw me now. Dirty. Barefoot. My slightly disgusting coffee mug at my side, litter underfoot like sand. [Read more…]